When news broke a few days ago that Kate Moss will be ending her three year partnership with Topshop this fall, I of course was a little upset. However, I soon realized that three years of collaborating with a certain brand is an EXTREMELY long time (think: Target and H&M only allow one collection per designer), and that we should be fortunate enough to have had her for that long. With her last collection coming out on October, I'm pretty confident it will sell out quickly. However, Topshop is set to relaunch the most popular pieces from her previous collections throughout 2011, as well as smaller and basic items (slubby tshirts, denim shorts, etc), so they won't be completely Moss-less until early 2012. To reminisce about her years with the high street brand, I've chosen my three favorite collections to briefly write about:

Christmas 2008.
I don't think there has ever been one designer collaboration as influential as this one. Who could ever forget that infamous Tiger dress? (I've taken the liberty of looking online to see how much it goes for now, and the cheapest I've seen is $420...with holes in it.) The uses of black, lace, satin, and sequins made me want to sell my cat just to get my greedy hands on any one of those items.
Spring 2009.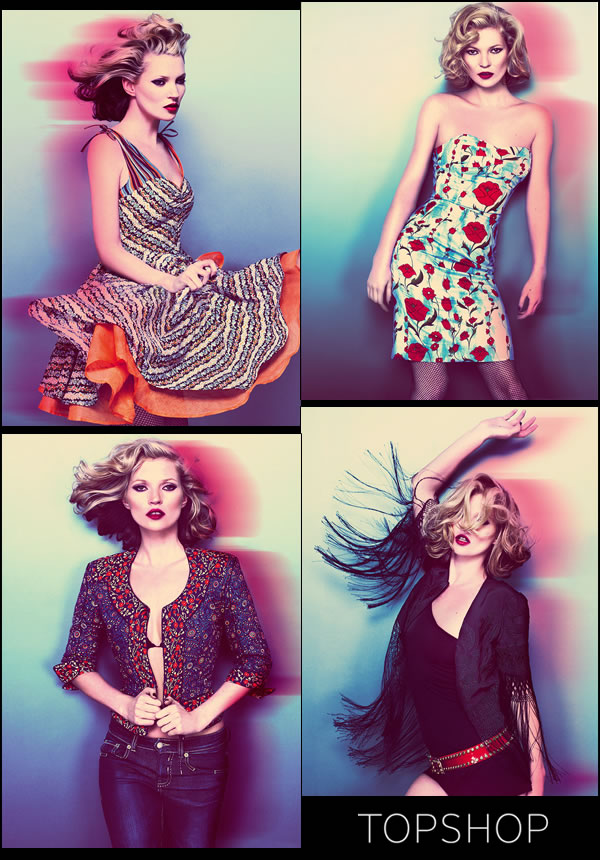 I thought the double collaboration with Liberty of London was just brilliant. I still swoon over the poppy prints and suede Russian-inspired jackets. Kate said her main inspiration for this collection was the eighties, and I can definitely see why: the items are fun, fresh, funky and *thinks of f adjective* fabulous.
High Summer 2009.
Kate's exotic themed high summer collection reflected her journeys throughout the Middle East. It features numerous animal prints and generally follows blue zebra, coral, and swirl designs. It's rich with chiffon and silk, and all of the products exudes complete sexiness. Arguably my favorite KM item comes from this collection; the silk swirl blouse that's shown in the picture above.
Are you upset/curious/happy to see her collection bow out this fall? Do you have a favorite item from her numerous collections? Leave a comment in the box with your opinions.